Oh my, how has this much time passed? Oh yeah, it's that thing called work. Something I'm not exactly used to you know. And it's really interfering in my social/knitting life. Since, I'm somewhat pressed for time, this is going to be another drive-by update.
2) Offspring # 2's Blue Sky Alpacas' Hooded Pullover in Dyed Cotton (the one that was supposed to be for Christmas). Sleeves done, just needs sewing up and hood.
3) Jumbo cat blanket (aka an afghan for the living room, but I might as well be honest about it's eventual fate). Another ball of yarn finished, but now it's stalled as the rest of the yarn is buried under a bunch of stuff left over from the house shaking project (something else that's been stalled).
4) KP&S's Weekend Neck Down Jacket in Blue Sky Alpacas' bulky. First sleeve is finished, but I'm not that happy with the look of the cuff, so I may take that out .
5) All the little kid items (charity knitting) that have been languishing about. I'm counting this as one item even though there are, oh, 2 vests, 3 cardi's, 2 pullovers and a baby sweater in the bunch . Mostly because they all just need a little bit of finishing work. Nada.
6) At least 2 pairs of socks of the ½ dozen or so on the needles. Done.
7) The Blue Sky Alpacas' Eyelet Cardigan in Dyed Cotton (it just needs finishing work). Nothing, still.
9) My version of Mr. Greenjeans in Dream in Color's Cocoakiss. Body finished, cast off first sleeve last night.
10) KP&S's Neckdown Wrap Cardigan in Malabrigo. First sleeve finished.
11) Blue Sky Alpacas' Scoop Neck Vest in Classic Elite's Renaissance.
Zero progress.
12) Fleece Artist's Lady of the Lake in Curlylocks and Fleece Artist Aran Yarn. Needles still missing/unknown. When I stop with this work thing, maybe I'll have time to find them.
And just to prove I haven't really mended my ADD/procrastinator ways, look at what I cast on for the other day.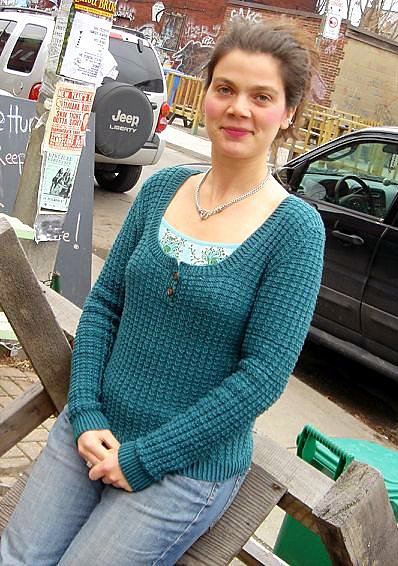 Liza {who notes that of course the perfect thing to cast on for summer knitting is a long-sleeved wool shirt}