Nothing like starting the year off right. If by "right" you mean as usual, even though you kinda, sorta decided to change your usual MO as part of a New Year's resolution. I had decided to stop putting off the things I
want
to do, like blogging more and finishing up projects and trying out new techniques etc. Yeah, going well, that. Sigh, procrastination is my second (and third and fourth) name.
However, I am determined to fight that tendency and as part of that effort, I've joined
Mission Possible 2008
over on Ravelry. I thought I'd share my list here as well, as sort of a back-up reminder system. So here it is:
1) Give away, sell, whatever, but get rid of the 2 bags of random "what was I thinking" yarn (seems if you put a sale sign on it, I'll buy anything).


2) Offspring # 2's Blue Sky Alpacas' Hooded Pullover in Dyed Cotton (the one that was supposed to be for Christmas).




3) Jumbo cat blanket (aka an afghan for the living room, but I might as well be honest about it's eventual fate).
4) KP&S's Weekend Neck Down Jacket in Blue Sky Alpacas' bulky.





5) All the little kid items (charity knitting) that have been languishing about. I'm counting this as one item even though there are, oh, 2 vests, 3 cardi's, 2 pullovers and a baby sweater in the bunch . Mostly because they all just need a little bit of finishing work.
6) At least 2 pairs of socks of the ½ dozen or so on the needles.



7) The Blue Sky Alpacas' Eyelet Cardigan in Dyed Cotton (it just needs finishing work).





8) 2 new items for charity (deadline of Feb. 8th for charity knit night @ Make One Yarn Studio).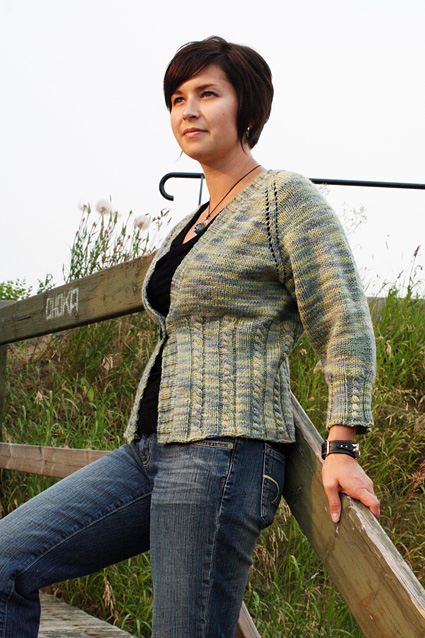 9) My version of Mr. Greenjeans in Dream in Color's Cocoakiss.


10) KP&S's Neckdown Wrap Cardigan in Malabrigo (same pattern as the one in the previous post).
11) Blue Sky Alpacas' Scoop Neck Vest in Classic Elite's Renaissance.
12) Fleece Artist's Lady of the Lake in Curlylocks and Fleece Artist Aran Yarn.
Well, that all took an inordinate amount of time, so I think I'll leave it at that for now.
Liza {who still retains her title of technodolt}