In fine knit blogger tradition (one started by, I believe,
mamacate
) I declare today a random day.
To start, the bad:
1. I'm sick. Offspring #2 shared the cold/flu thing (need to talk to that child about what/when one should share and when not to) and an elephant has taken up residence in my chest. A small elephant to be sure, but an elephant none the less.
2. Gas is up to $1.15 per litre
3. I missed Knit Nite at
M1
last night, I missed my quilt group meeting this morning and it now looks like
this concert
is a no go for me as well.
4. I have a criminally short attention span.
The good:
1. Between avoiding too much driving around ($1.15/L!) and being sick, I've had lots of knitting time.
2. Mr. Greenjeans and the jumbo cat blanket have both grown a few inches. There may have been a few other things jumping on to my needles as well (see #4 above). For example, this pretty little thing might, just might, be several inches into the rib.
The pattern calls for
Blue Sky Alpaca's Sportweight
held double, but as usual, I'm changing things up a bit and am using these two together:
This is their Alpaca Silk in Wisteria (#114)
And this is the Suri Merino in Dusk (#418)

I'm loving the fabric these two are turning into. It's looking kinda tweedy and it's soooooo soft!


Also landing on my needles (I was just sitting there, I swear, and the yarn just jumped on) is
Roam from Knitty
: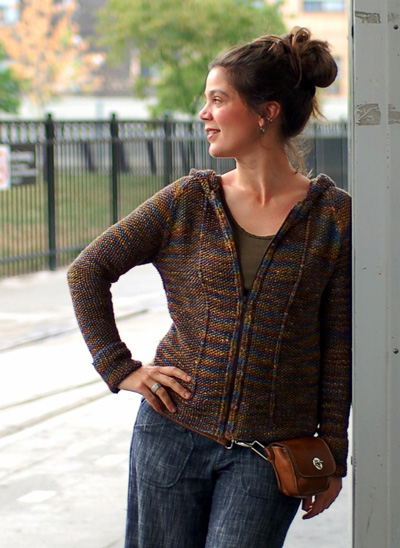 I've had this yarn in my stash for a bit and I guess it got lonely or tired of being ignored or something. Oh, and of course, I did change things a bit. The yarn shown is lovely, but the colourway was not for me. So instead I'm using this one:
Hand Maiden's
Great Big Sea in the colour Nova Scotia. Just a note, on my skeins, the light green is more of a yellow green. Again, loving the fabric it's making up into. However, the seed stitch pattern is (for me anyway) slooooowwww.
3. The chicken noodle soup I made yesterday is very good and well timed!
Totally Random:
1.
Eugene Levy's
son
Daniel
(in spite of the eyebrows) is a hottie. Who'da guessed that?
2. Signs of spring are here. It's shedding season and absolutely everything I own is coated in a fuzzy/furry grey layer.
3. A new study showed that over 90% of the food marketed towards kids is crap. No really? And someone paid for that study? I think any parent could have told you that.
Liza {who wishes she could find someone to give her money to find out the obvious}